All-in-one content creation tool.
One single tool to easily create and repurpose impactful content . Make yourself heard everywhere.
A.I. and collaboration at heart.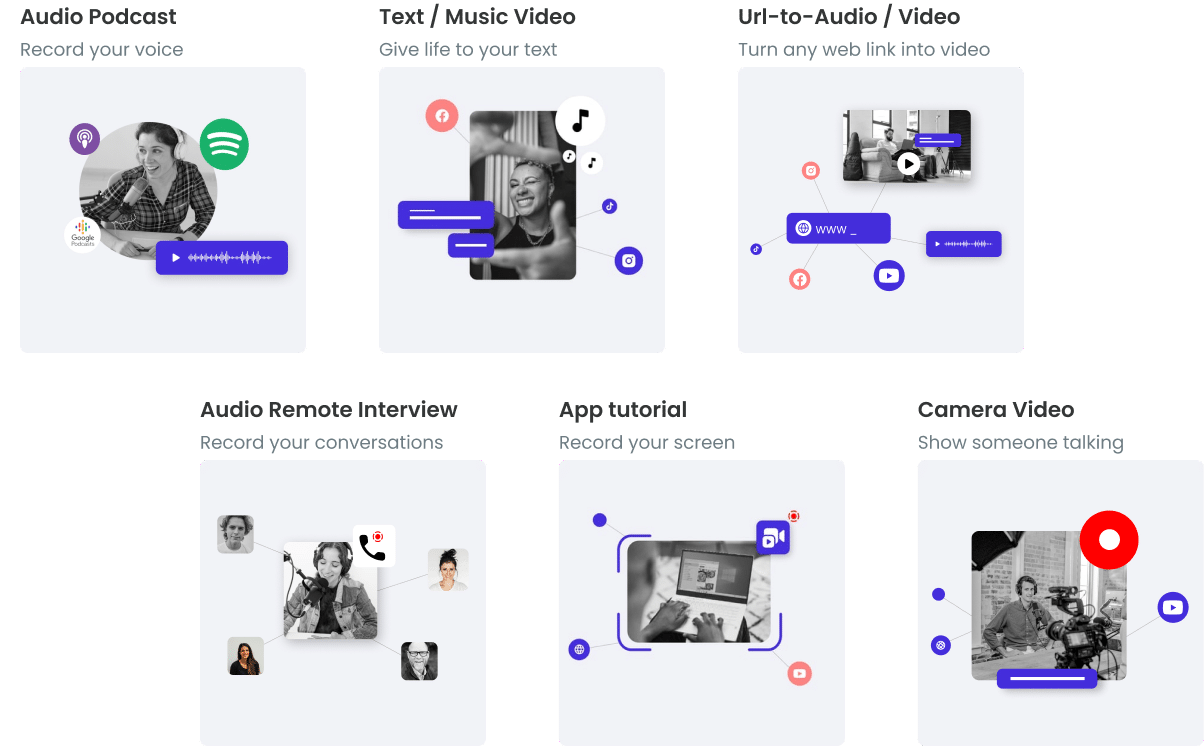 "The easiest and fastest way
to create professional audio et video content."

Create your content.
In 3 simple steps.
8x faster

than a traditional content creation process!
Audio, video or text? 
Live record or upload or artificial voices? 
Start the way you want.  Camera recording, screen recording, voice recording, call room recorder, personal media upload, artificial voices (yet super realistic!), audio library.
Create professional and quality content fitted to your communication needs.
An innovative way of producing content.
Let's face it, nobody likes hours of edition. Whether you want to mix different sources or insert jingles, remove unwanted parts, we propose you a brand new experience made for "normal business people".
Automatically split your ingested content into "cards" or let you start to record, piece-by-piece. So easy.
Re-record, add a piece or update becomes finally painless.
Automated transcription, assisted audio editing, A.I., video creation, transform raw audio or video into what you you want: a Podcast, a Video, a written Article… or the 3 😉
With text to speech, speech to text, free illustrations, multiple templates… easily personalize your content. Both our UX & advanced technology are here to make it suitable for any business user.
We connect seamlessly with all your external and internal communication channels.
Click on a button and share your content instantly and in the right format to your intranet, social media platforms, website, podcast platforms.
Creating multi-channels campaigns for maximum impact is now a child's play.
Why multichannel matters?
The question is: how your audience will love to consume your content?
Every business faces its own challenges, but communication is key. LiLiCAST was designed for any business user – expert, manager, com – who wants to become a professional content producer.
"What I prefer at LiLiCAST is the quality of the onboarding and the team is always here to help."
Yes we're here to help! Real Humans, communication experts speaking English, French and Spanish (and a bit of many other languages)!!