3 key tips for a successful podcast production
LiLiCAST is a complete tool that allows you to perform all the steps of creating and managing podcasts directly through its podcast web app. It is accessible on computers and smartphones and provides an intuitive and user friendly interface. Thus, you don't need to be a professional to create your podcast on the subject you are interested in and share it on the Internet. However, the different stages of podcast production are all important and should not be overlooked or neglected. We give you our 3 essential tips to make the production of your podcast a success!
Prepare your podcast in advance
Don't rush to record your podcast. Preparation is the key to a successful production afterwards and thus create an interesting podcast. If your content is too messy, it will be reflected in your audio file and the audience will not listen until the end. Keep in mind that the quality of the content and the way it is recorded are fundamental to the success of your podcast. On the LiLiCAST app, the text editor is integrated to create your content directly before saving it. If there are several of you working on it, you can work collaboratively on the same file. All you have to do is add your guests!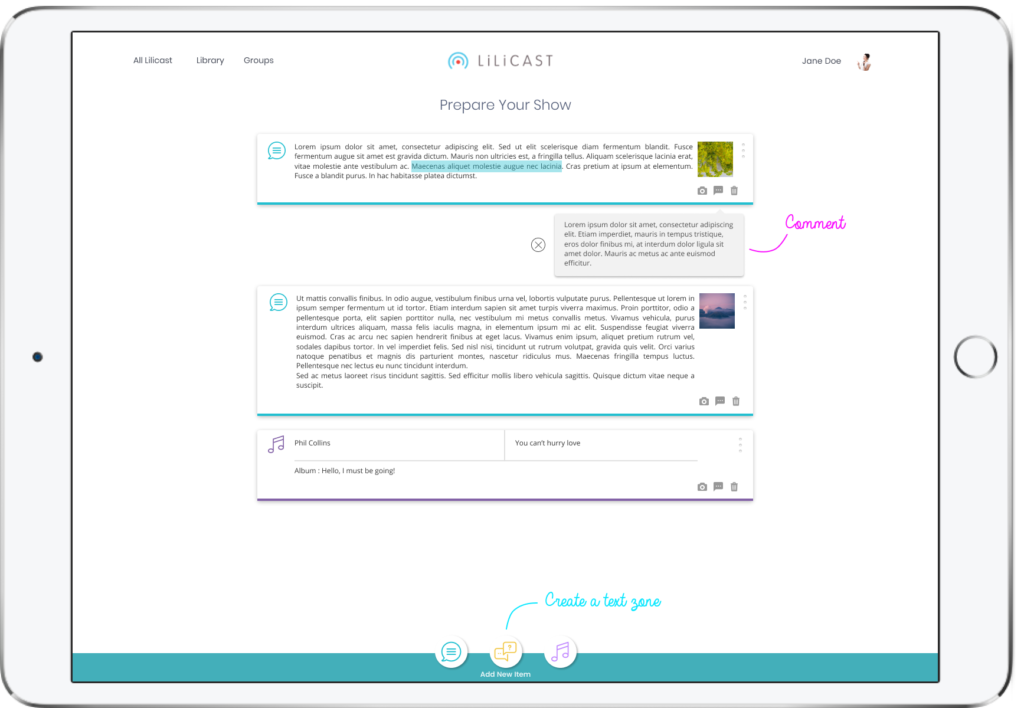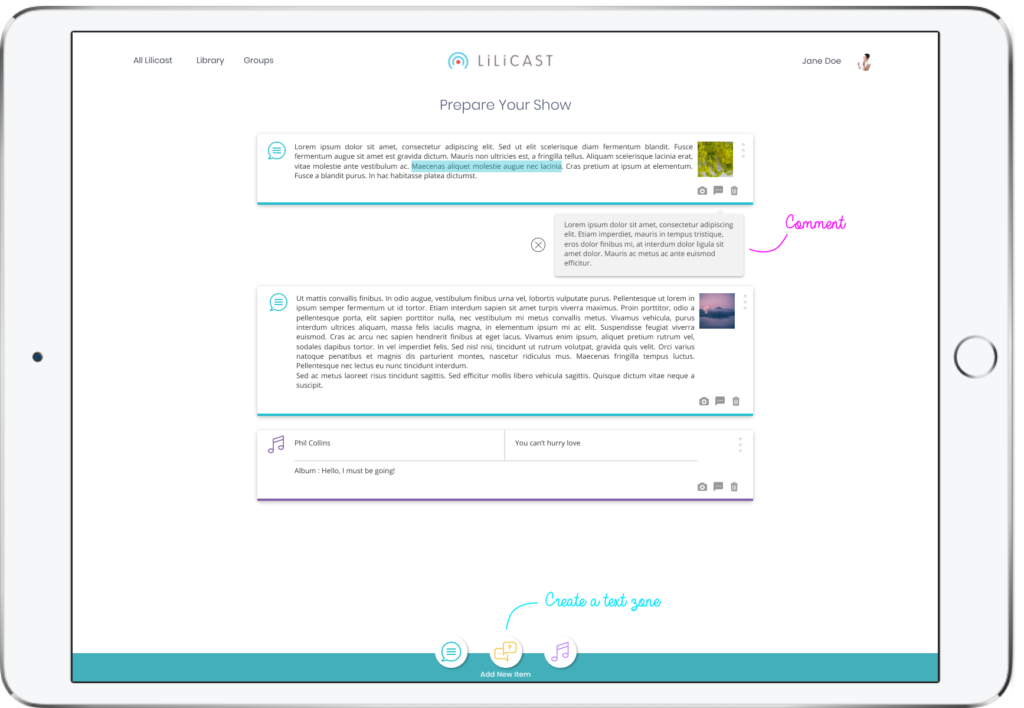 Record everything and take your time
Whether you are recording your audio alone or with others, remember to record well from beginning to end. It doesn't matter if there are blanks, omissions, babbling… You can edit and mute your audio once it's recorded! It is also possible to start over if it really doesn't work. Training once may be good to get an idea of the final result, but subsequent recordings will never be as spontaneous as the very first one. Hence our advice: record all the speeches from the first try and then, arrange the production of your podcast as you wish.
Illustrate your message in a clear and attractive way
On the LiLiCAST app, you can add photos, gifs, text… and bring your podcasts to life! This is very important to attract the attention of Internet users and thus create or expand your audience. LiLiCAST allows you to create real added value during the production of your podcast, you will be able to stand out from the competition thanks to animated visuals that say more about the subject of your podcast. You can even add subtitles. Remember to choose the visuals and texts carefully, they must be explicit and attractive to catch up the eye and arouse the curiosity of Internet users! For example, you could show a question on screen which you are replying on the audio as well as adding an illustration providing a clue to the answer!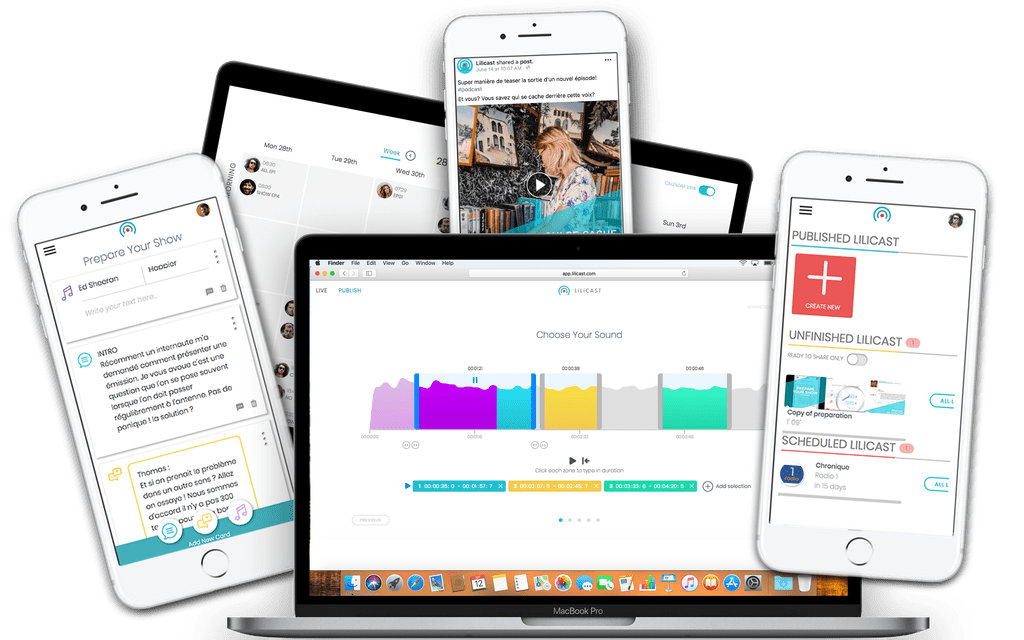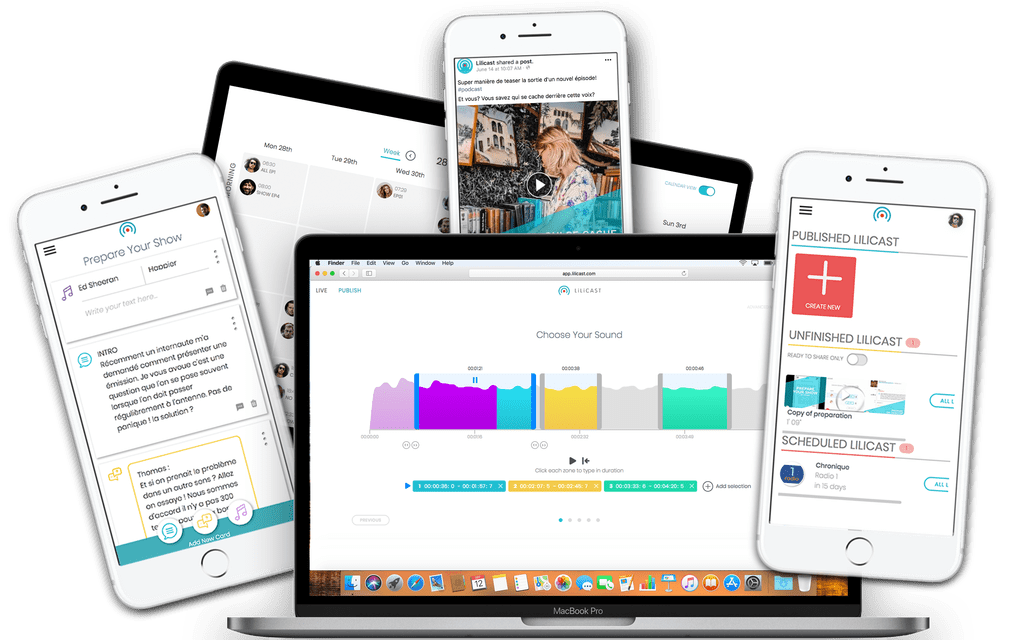 It's up to you to produce the podcast that looks like you with LiLiCAST!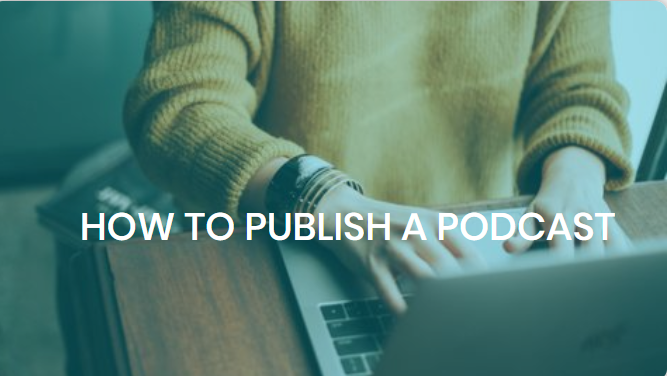 As you will have understood, podcast production goes through different stages and none of them should be neglected. A qualitative and effective podcast must be well prepared to provide complete and clear content. Record everything from the first try will give you enough material to edit your audio as you want and create attractive teasers. Don't neglect the communication around your podcasts, the LiLiCAST podcast app allows you to illustrate your podcasts directly after creating them. Then there is only the last and essential step: the publication of your podcast! Come and discover all the publication possibilities that LiLiCAST can offer you, whether on your website, your blog, your social networks…